For showtimes, click here.
The Grapes of Wrath is one of cinema's masterpieces. Nominated for seven Academy Awards, including Best Picture, the film won in two categories: Best Director (John Ford) and Best Supporting Actress (Jane Darwell). Today, audiences are still impacted by this glimpse into the past, where displaced families struggled to survive in one of America's hardest times.
1. Steinbeck approved.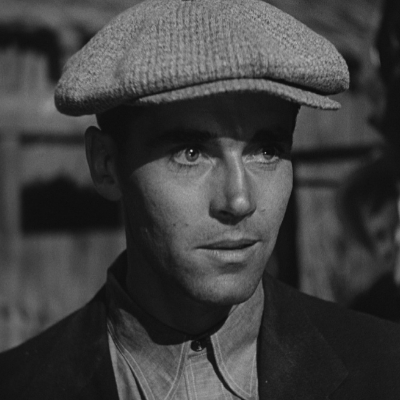 In 1938, John Steinbeck was angry. In order to write a story for Life magazine, he saw firsthand the state of worker camps in California, and he was appalled at what his fellow Americans were experiencing. That outrage drove him to write The Grapes of Wrath. Producer Darryl F. Zanuck purchased the rights and had screenwriter Nunnally Johnson write the script. However, Johnson was nervous about adapting it because he held it in such a high regard, feeling it had an almost "Biblical" quality to it. So once he completed his draft, he sent the script to Steinbeck for his approval. Not only did the author approve, but he also asked Nunnally to adapt his other novel, The Moon is Down. They remained friends the rest of their lives.
2. The cast could have been very different.
Spencer Tracy, Don Ameche, and Tyrone Power were considered for Henry Fonda's part. James Stewart was considered for Al. Steinbeck suggested casting Beulah Bondi for the part of Ma, and Walter Brennan and James Barton were considered for Pa.
3. Carradine was a character.
Director John Ford was known for his temper, even making Western legend John Wayne feel small when he was angry. During Grapes, the director found himself at odds with John Carradine. However, unlike the Duke, Carradine was skilled at letting it roll off his back. Dorris Bowdon recalled, "John was one person that was totally oblivious to Ford's needling. He had such an ego. He was a marvel. He thought of himself as Barrymore, and he was impervious to anything Ford did to him." So if he didn't like the director's notes, Carradine would either overplay those suggestions so that they wouldn't work or simply refuse to do them. In Carradine's mind, his rebellion, however, was for the best because it allowed him to flesh out his character, rather than simply repeating what he had done in other films. He said, "No matter what part Ford hired me for, he'd always want me to slobber, drool, or squint."
4. Eleanor Roosevelt wrote about it.
Even before the film arrived in cinemas, the story had had an effect on Eleanor. After reading the novel, she called for congressional hearings that eventually led to changes in worker camps. After the film was released, on February 23, 1940, the First Lady used her nationally syndicated column, My Day, to talk about it once more. She wrote, "I think it is well done, but I wonder if it will convey to many people the reality of what they are seeing. People laughed near us at some of the broad remarks in the dialogue. I did not feel the tragedy gripped the audience. They did not seem really to know what this story actually meant."