What would Hollywood be without these furry favorites on screen? These four-legged stars charmed audiences and held a special place in our hearts. Look back at some of cinema's canines!
1. Petey
After his father, Pal, died, Pete, an American Pit Bull Terrier, took over the canine lead in the Our Gang shorts at the age of sixth months. While his dad had a natural ring around his right eye, Petey had to have the ring drawn on. The talented pup was able to lick his lips, peer through a window, or join in a pillow fight. Jackie Cooper said, "To stay a whole weekend with Peter… was my idea of glory and paradise combined."
2. Sandy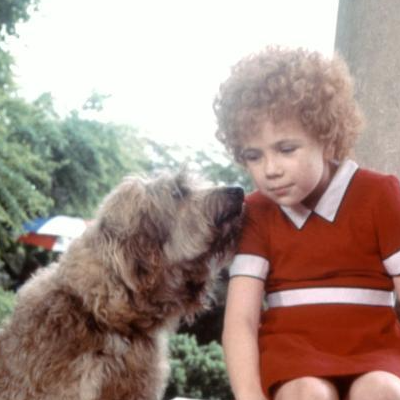 Bingo, an otterhound, got to play Sandy in 1982's Annie. Despite not having many stunts for the film, the pooch still ate steak or prime rib every night. When the scene called for a kiss, star Aileen Quinn rubbed apple on her face, so Bingo would do the trick. Director John Huston said, "That old belief that you should beware of children and animals is absurd. If you know anything about children and animals, they live up to your expectations, always."
3. Benji
Higgins, a mixed breed, learned over one hundred tricks for Benji. The 14-year-old dog was rescued from an animal shelter by Frank Inn, and when his origins became known, more than one million dogs were adopted. This blockbuster was also a favorite film of director Alfred Hitchcock's. The role of Benji stayed in the family after Higgins retired because his daughter, Benjean, took the lead.
4. Old Yeller
Walt Disney originally didn't think that Spike was the right dog for Old Yeller. The Labrador/Mastiff Mix was perceived as being too easygoing, so his trainer, Frank Weatherwax, worked with him to prove that he was the perfect choice. Spike came from a rescue and was purchased for only $3. But this canine cutie got the star treatment while making the film and had his own trailer to keep him cool in the California heat. Kevin Corcoran said of Spike, "He was a bright, gentle animal. He was on another plane of intelligence. This dog knew what we were saying to him."
5. Cujo
Stephen King wrote this scary tale about a vicious dog after a run-in with a real-life mechanic's mean dog. However, the canine actors who actually played the lead were so happy while filming that their wagging tails had to be tied down using fishing line. Certain stunts also didn't involve a dog at all; instead, a mechanical head or a stuntman in a dog suit were used.
6. Air Bud
Buddy had a big task for Air Bud when he had to learn how to shoot basketballs. The trick took six months to learn, but once he got the hang of it, he made over 20 thousand shots. Special basketballs, costing $300 each, were used. They were soft, light and covered in olive oil. When the balls were tossed to Buddy, he wasn't actually trying to score. He was trying to bite them. Buddy also wore special sneakers tailor made for his paws. Before his Air Bud fame, Buddy was actually homeless until his owner found him in the forest. Buddy also played Comet on Full House.