For showtimes, click here. 
Audrey Hepburn teamed with director Stanley Donen for the third time (after Funny Face and Charade) to make Two for the Road with Albery Finney. While she was nervous about playing an unlikeable character (and one who had to skinny dip in the film!), she nevertheless tackled the role with great prowess.
Finney said, "With a woman as sexy as Audrey, you sometimes get to the edge where make believe and reality are blurred. All that staring into each other's eyes."
Donen said, "She gave what I think is her best performance."
1. It was inspired by real life.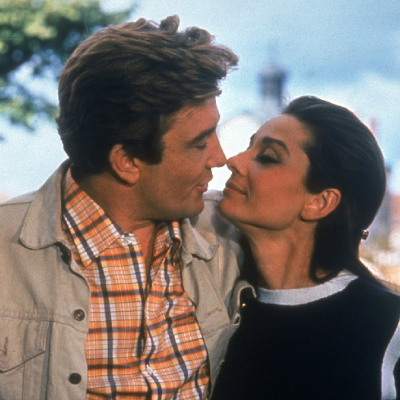 Screenwriter Frederic Raphael always went on vacation with his wife to the south of France every year. Given the habitual nature of their journey, he sometimes imagined passing himself on the road which spawned the idea of telling a love story that takes place over multiple trips to the same area. He pitched the idea to director Stanley Donen, who thought it sounded fantastic. The original title was Four Times Two,a reference to the four stages the marriage story goes through.
2. Newman was the first pick.
Donen wanted Paul Newman to play the male lead. However, the blue eyed actor turned the part down. Albert Finney was the next choice, and he accepted. "Albie really can't bear playing a man with pleasant charm. He wants to play something more startling. He doesn't like to come in and win you with his pleasant ways," Donen said. Michael Caine was also considered, as was Julie Christie (in the event that Hepburn's pregnancy made her unavailable).
3. Another film stopped her from getting a nomination.
Two for the Road and Wait Until Dark were both eligible for Oscars. The Academy chose to nominate her for the thriller instead. Audrey didn't win the Oscar though. Instead, another Hepburn did. Katharine Hepburn won her second Academy Award for her performance in Guess Who's Coming to Dinner.