For showtimes, click here. 
For Yellow Sky, director William Wellman teamed again with writer Lamar Trotti, who had scripted The Ox-Bow Incident. The film was a commercial success, demonstrating the tough director's ability to capture Western grit.
1. Baxter was Wellman's choice.
The studio wanted Paulette Goddard for the female lead, but director William Wellman chose Anne Baxter instead. The leading lady was prompt on the set and was able to hold her own for movie stunts, including riding, shooting, and even fighting. In fact, she impressed the director with her dedication when going head-to-head with Gregory Peck in their fight scene. He said, "She kicked hell outta him."
2. The crew was a happy bunch.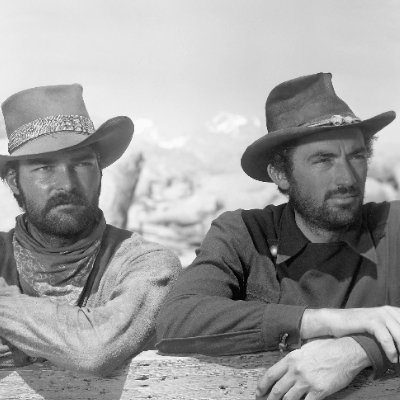 While filming in Death Valley, the director fostered a family atmosphere with the crew. During their free time, they would play softball, enjoy a hike, or go fishing. The only person who didn't partake was often Gregory Peck. He poured over his performance, using his time to dig deeper into the script. Still, that didn't stop Robert Arthur from calling him "one of the greatest professionals I ever worked with." Peck even gifted his co-star with a dog.
3. Peck didn't demand star treatment.
Despite being a box office draw, Peck wasn't demanding on the set. In fact, before filming began, he actually fractured his left ankle while riding horseback. Nevertheless, he performed his own stunts for the film. Unfortunately, the injury didn't heal properly and had to use special shoes for extra support.