For showtimes, click here. 
After his success with Blazing Saddles and Young Frankenstein, Mel Brooks had the opportunity to do something else he'd always wanted.
"I have many fond memories of making To Be or Not To Be," Brooks said. "It was so much fun, especially the singing and dancing with my gorgeous and sensationally talented wife."
1. The film had a special meaning.
Brooks had been wanting to do a film with his wife, Anne Bancroft, but aside from her brief scene in Silent Movie, they had yet to find something. That's when he thought of one of their favorite films: To Be or Not To Be. Brooks not only respected the classic comedy but its director, Ernst Lubitsch, as well. He said, "He made what I always aimed for – a serious comedy. A lot of laughs, but always driven by something important underneath."
2. It was the film debut of their son.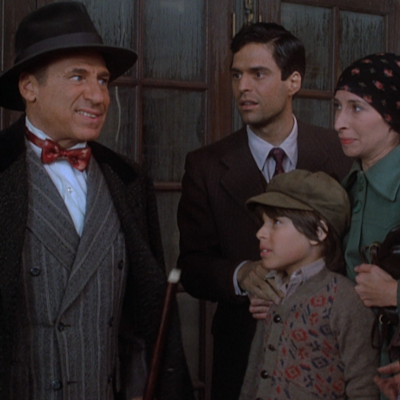 Maximillian Michael Brooks made his debut in To Be or Not To Be at the age of nine. "He was really good," remembered Mel, "and he liked doing it… for a while." However, due to itchy clown makeup and the work involved with reshooting, Max eventually decided that acting wasn't his cup of tea.
3. Brooks donned a certain disguise for the last time.
Similar to History of the World, Part 1, this film also decided to use a rap for promotion. Brooks envisioned "The Hitler Rap" and called on Pete Wingfield, who wrote "It's Good to Be the King," to work his magic yet again. This was the last time Mel donned the infamous mustache.